A Book Of Five Rings
For iPhone, iPod Touch & iPad - ONLY 99 cents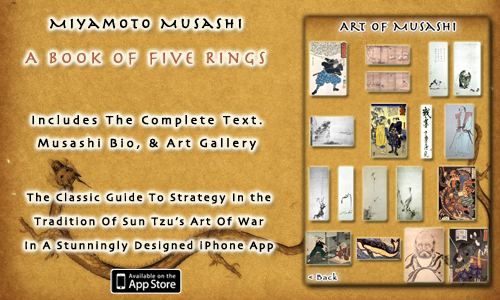 The Classic Guide To Strategy And Life By Master Samurai Miyamoto Musashi
Click Here To Check out A Book Of Five Rings in the AppStore
A Book Of Five Rings, the classic guide to the Way of strategy by master samurai Miyamoto Musashi, is now available in a stunningly designed iPhone/iPod Touch app.
* Read 'A Book Of Five Rings' the profound samurai Miyamoto Musashi's indispensible guide of strategies for battle and life.

* Browse the beautiful art gallery with 18 pieces by Musashi and other artists who painted scenes of Musashi's legendary life

* Learn about the man, Miyamoto Musashi, and his amazing life.
Feature Highlights:
Stunningly designed and easy to use interface
The full text of A Book Of Five Rings by Miyamoto Musashi
18 paintings by Musashi and artists who painted scenes of his legenday life.
Learn about Miyamoto Musashi through a a short bio on him
Adjustable text size
2 scrolling modes - Continuous and Page by Page
Automatically bookmarks each chapter as needed
Click to visit A Book Of Five Rings in the AppStore